Happy Coding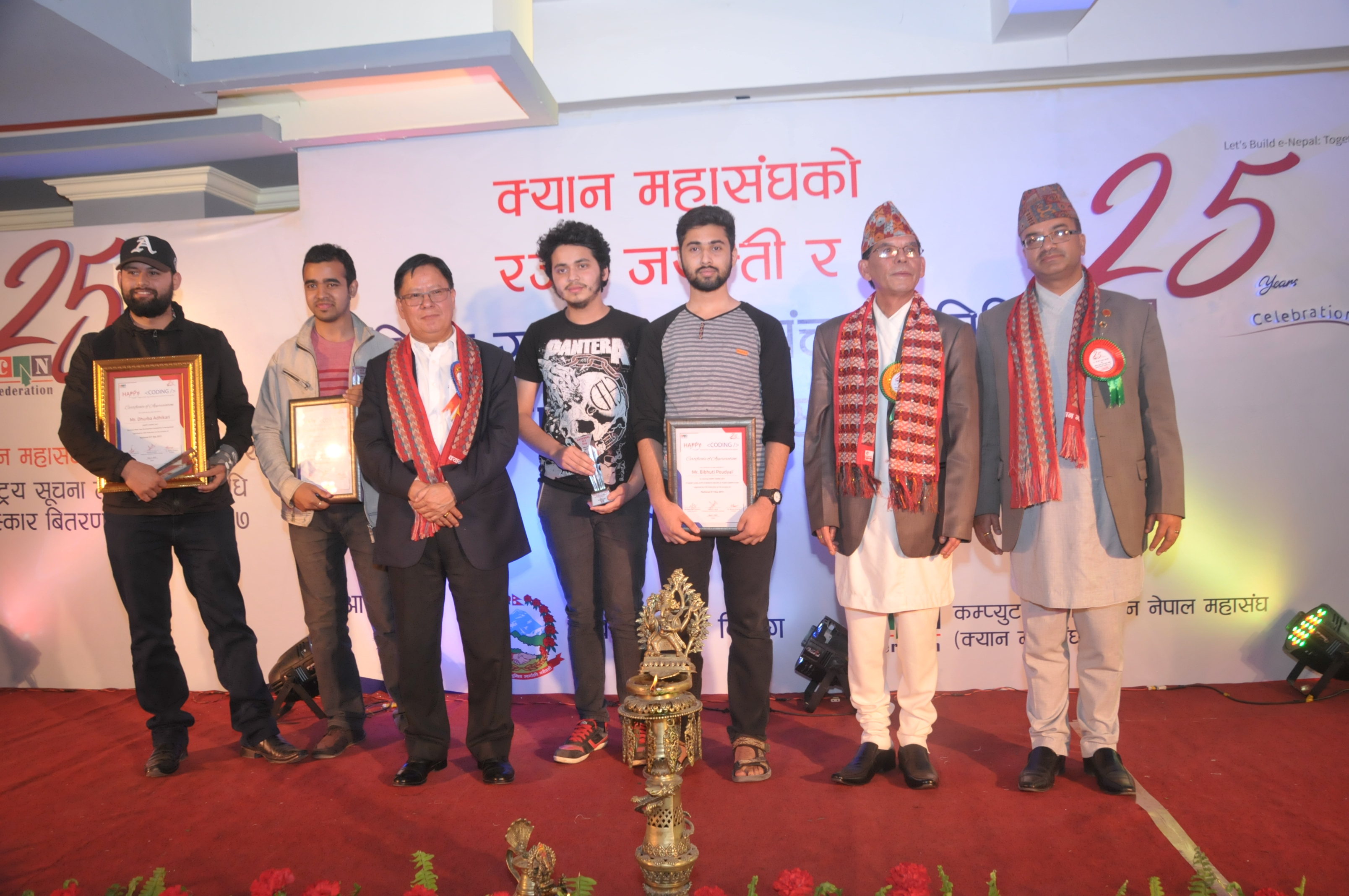 Event Name
HAPPY CODING – National Website and App Development Competition & Appreciation
Event Coordinator
Mr. Abhijit Gupta, Chairperson of Software & BPO Committee, CAN Federation
Introduction
Happy Coding is an event that is planned to motivate and encourage coders and programmers who have been doing amazing somehow and contributing in the development of ICT growth in Nepal. This could be a young student with amazing skills in coding or products or services or concept.
Thus, this program can be divided in two steps.
One, National Website and App Competition, where, participants can participate with their creations and three winners from two categories Website & Mobile App gets award. This will also help them build their career.
Another, it to appreciate any startup who is selling some service or product in international market. We will be just providing them with a token of appreciation for their kind and hard work.
Objectives
To encourage member's participation and motivation on Software/App Development.
To give a platform to programmers to brand their work and skills.
To encourage startups and appreciate their hard work.
Dates & Venue
| | | | |
| --- | --- | --- | --- |
| SNO | Particulars | Dates | Venue |
| 1 | Announcement for Application Opening | 4-Apr | |
| 2 | Application Closing | 18-Apr | |
| 3 | Jury/ Interview | 29-Apr | CAN Federation Office |
| 4 | Award | May 2 | Binayak Multi-Venue |
Category
Competition for Nepalese

Student under the age of 22 years
Website Professionals open to anyone
App Developer Professional open to anyone

Appreciation/Recognition for Nepalese (for Max 10): They must have done something which they might be selling in the international market. It could be service or product or license.
Audiences & Participants
Audiences: All members, ICT Professionals and students
Participants: Students, Coders, Programmers, 10 Nominated startups
Jury Committee
Prof. Dr. Subarna Shakya
Karmath Dangol
Mukesh Regmi
Subhash Dhakal
Rabin Basnet
Abhijit Gupta – Coordinator
Technical Committee:
Abhijit Gupta – Chair
Shakti Shrestha
Amir Maharjan
Udaya Raj Dhungana
Organizing Committee: Software & BPO Committee
Abhijit Gupta - Chair
Shakti Shrestha – Co-Chair
Karmath Dangol
Prabhu Pd. Shah
Jayaram Humagain
Bishnu Kunwar
Published Application Form URLs
Competition Application Form
https://docs.google.com/forms/d/1jpUVrVl3eWt5Q29o-B5WdjGZwvsFhmkQLFX06qpalgk/edit
Appreciation/ Recognition Nomination form
https://docs.google.com/forms/d/1tX952BsXD6wSs3mOayZzuXHshp1CnzSwCppyO2DF5FI/edit
Schedule
Time

Particulars

Remarks

10:00

Software & BPO Committee Meeting
Sound, Camera, Stationary, Jury Assisting, ToR, Candidates, Recommendations

11:00

Meeting with Technical Committee
ToR, Candidates, Recommendations

11:30

Meeting with Jury Committee
ToR Briefing

12:30

Interview/Evaluation

05:00

Final Results and Sealing
Contestants
Category

Name

Provided Project Summary

Remarks

Student

Bharat Dc - St. Lawrence College

Virtual School: Using technology to automate teaching and learning process along with College automation system.

Website

Tshering Lama - Codemandu Business Solution

Hospital MIS: Management Information System for hospital

Student

Shekhar Dhakal - Herald College Kathmandu

Food Photography Under Web Development: This website helps you to find out different national and internation food at particular location with price.

Website

Yubaraj Shrestha - Beltech Pvt. Ltd.

DMG Nepal: Government website from scratch to complete cms system using SASS, HTML, jQuery, Laravel

Student

Dinesh MC.

Nepali Sahitya: It is under construction and will live on my professional website. Just lunching later. It has not created mean site, will upload on my site initially.

Website

Abhishek Gupta - Drishtanta Technlogies

Merohostel.com: Merohostel.com is an online portal that provides detail information of hostel in Kathmandu Valley. We have above 250+ hostel information listed on our site. The major target users are the students who are out from the valley and are search for the hostel in Kathmandu via online.

Student

Kishor Shrestha - Deerwalk Institute Of Technology (DWIT)

Oil Finder

Website

Rajendra Sharma – Fsociety

Feedme: Booking restaurant food .

Student

Vijay Thapa - The British College

Search For Blood: In short this project uses 2 android application .
one given to the oil station by using the app they can change the status of the station such as availability of petrol and diesel in the station .another to the public who can use the app and check whether the station have petrol and diesel or not and even the closing and opening time i.e. real time status.
please find the more detail on the project in the github link provided below.

App

Yashin Shekh - Deerwalk Institute of Technology

Speak English: A mobile app which is intended to teach the basic english pronunciation to the user using the speech synthesis machine learning algorithm. Furthermore user can analyze their speaking tone by recording their voice and this application will show the result if his/her voice is recognizable or not.

The objective of this app is to help the non-native english speaker to speak like native speaker with the help of a smart phone ultimately reducing the cost for learning english which are available in market.

Winner

Student

Charles Shahi – CITE

College information system: College information system is a web page where basic information of college provide for web visitor

Website

Suman Sapkota - Gomendra Multiple College

Smart Study Hub / Notes Center: 4 to 5 hours of college class doesn't provide enough knowledge to those students who really wants to think out of box, so we provide academic notes, related materials, videos, projects,daily quiz and coding syntax search at a single place for IT students with fascinating user interface.

Winner

Student

Bibhuti Poudyal - St. Xaviers College

Realtime Whiteboard: Realtime whiteboard is a nodejs projects. It allows you to create a room and invite others to join and you can share anything on the whiteboard with your team, friends or students. Additionally, this is a group chat feature and different types of brushes and colors, making it suitable for all types of data sharing.

Winner

App

Yubaraj Shrestha - Beltech Pvt. Ltd.

Siddhartha Insurance: An insurance calculate with more than 14 calculator in an app.

Student

Raju Prasai - Pratham It System Pvt. Ltd.

Paynote: Paynote is a innovative web/mobile based attendance and payroll application that can do attendance with help of employee mobile & LAN connection. It has 3 in one attendance system. 1.) Without employee mobile. 2.) With employee mobile (by sending Log in and Log out request to the server ) and 3.) With employee mobile (without sending any request. i.e: My software will automatically detect all employee connected in LAN and Find It's Identity and Do Login And Logout accordingly.) Project URL is of web app. For more details please contact me or my organization.

App

Tek Raj Guragain - Living with ICT

Nomination

Dhruba Adhikari - PicoVico

Picovico is a video-storytelling platform for personal, professional, and business use. The application automatically transfers photos and video clips into easily shareable polished movies with exclusive video styles, text, and music. Video : https://www.youtube.com/watch?v=AocmzYu-nWE For details , see : http://picovico.pr.co/presskit/217255

Winner

Nomination

Degendra Sivakoti - Site Hawk Pvt Ltd

Website monitoring tools
---
Activity Details
Posted on : 2nd May, 2016
Posted by : Shristi Maharjan
Updated on : 14th January, 2019
Other Activities
सम्माननीय प्रधानमन्त्री के.पी शर्मा ओली ज्यू संग कम्प्युटर एसोसिएशन नेपाल (क्यान महासंघ) का अध्यक्ष श्री नवराज कुंवरज्यू को नेतृत्वमा क्यान महासंघका पदाधिकारीज्यूहरुले प्रधानमन्त्री निवास बालुवाटारमा भेटवार्ता गर्नु भएको छ |...
24th January, 2020
MoU was signed between CAN Federation and Worldlink Communications Limited...
26th December, 2019
Meeting with Ms. Bidhya Subedi President of GNPN/CAN-USA and Mr. Bijaya Gautam, Board Member of GNPN/CAN-USA with President Mr. Nawaraj Kunwar...
26th December, 2019
Introduction Meeting of CAN'S office bearer with FNCCI...
19th December, 2019
ICT Seminar on Digital Financial Services 2019 at Siraha August 10,2019...
10th August, 2019
ICT Seminar on Digital Financial Services for Financial Inclusion at Birendranagar Surkhet, August 7, 2019...
7th August, 2019
Meeting With Officials of JISA on August 6,2019 at JISA Office, Japan...
6th August, 2019
ICT Seminar on Digital Financial Services 2019 at Baglung on August 5, 2019...
5th August, 2019
ICT Seminar on Digital Financial Services at Ghorahi, Dang August 5, 2019...
5th August, 2019
ICT Seminar on Digital Financial Services 2019 at Chitwan, August 3, 2018...
3rd August, 2019