Training on Scrum Master by Scrum Inc.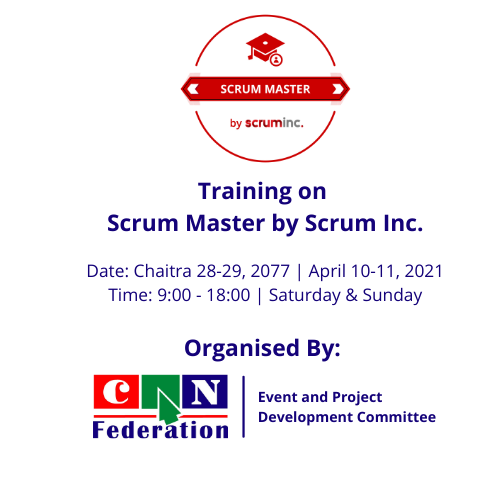 The Event and Project Development Committee of the CAN Federation is conducting two (2) full days of certified training on 'Scrum Master by Scrum Inc.' on April 10-11, 2021/Chaitra 28-29 (Saturday & Sunday) in Kathmandu, Nepal.
The Scrum Master training will be mentored by certified professional Mr Vivek Rana (Mentor), Certified Scrum Product Owner (CSPO), and delivered by licensed Scrum trainer Mr Prakash Aryal (Trainer), Scrum Trainer.
We have limited seats remaining and the Early Bird Registration is still OPEN till April 03, 2021. For Training Fee and other details refer to the training proposal.
Click here for the traning proposal: https://bit.ly/31CCzmR
---
Notice Details
Posted on :27th March, 2021
Posted by : udip baral
Updated at : 27th March, 2021
Other Notices
President Message: Thank you to our sponsors and supporters!...
25th May, 2022
Nominations Open for 2022 WITSA Global ICT Excellence Awards!...
5th May, 2022
Second Shortlisted Candidate for an interview for the course: Workers' Further Training...
18th March, 2022
Ethical Hacking's Shortlisted Candidate for an interview...
10th March, 2022
CCTV Installation and Repair's Shortlisted Candidate for an interview...
9th March, 2022
Workers' Further Training: Invitation for the interview round of Printer Setup and Repair course....
8th March, 2022
कामदारको लागि थप सीप तालिम (Workers' Further Training) कार्यक्रम सम्बन्धी सूचना !...
16th February, 2022
२८ औं वार्षिक साधारणसभा स्थान र समय परिवर्तन सम्बन्धमा ।...
17th November, 2021
कम्प्युटर एसोसिएसन नेपाल महासंघ (क्यान महासंघ)को केन्द्रीय साधारणसभा सम्बन्धि सुचना...
30th October, 2021
2021 ASOCIO Awards - Open for Nomination...
22nd September, 2021